Between the 17-21 of October 2016 NCK in collaboration with the Research Centre for Museums and Galleries (RCMG) at the University of Leicester's School of Museum Studies organized a week-long course that explored how museums and archives can become more dynamic, inclusive and socially purposeful organisations. During the course, participants gained a better and more in depth understanding of the social role of museums and archives and their use as resources for shaping cultural values, memories and understandings. The course was intended for anyone working in museums and archives with an interest in exploring and developing their institution's social value, political relevance, and its resonance for communities.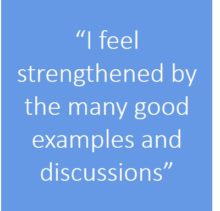 The content for the programme emerges from RCMG's research and practice in museums. RCMG values inform and enrich creative museum thinking, policy and practice to support museums and other cultural organisations to become more dynamic, inclusive and socially purposeful institutions. Grounded in theory as well as Nordic and Baltic international practices and case studies, the course offered opportunities for active learning, collaborative activities, discussion and debate. Participants were encouraged to draw upon and use examples from their own professional context as part of an assignment that invites them to reflect critically upon the discussions emerging during this course.
The course was led and facilitated by Jocelyn Dodd and Sarah Plumb, RCMG.
Guest speakers: Tom Furber, who works for the London Metropolitian Archieves. Tom gave a speech on the theme LGTBQ+ and archieves. How and why it is important to discuss these questions, and how to active work with archieves when it comes to LGTBQ+ as well with the historical archieves as the present ones.
Janet Dugdale is Director of Museum of Liverpool. Janet held a introduction to how Liverpool of Museum is working with both collections and their visitors to include as many people as possible, but also how to work with difficult issues and topics.
The course received positive feedback and Socially purposeful museums and archives might be held again in 2017.
For more information, please follow the links above or contact us at info@nckultur.org
The course was carried out with the support of