NCK is heading up a new network project about "Cultural heritage and well-being" with funding from Nordisk Kulturkontakt, together with its partners Århus University (Tine Fristrup), Oslo Museum, Bymuseet (Linken Apall-Olsen), and Estate Academy of Rumsiskes Museum (Gita Sapranauskaite).
Research has shown the potential of culture to positively influence people's health and well-being. In the face of an aging western population and an increasing number of people with mental health problems, these effects contribute to individual life quality as well as to the reduction of costs in the public health sector.
This project wants to establish a Nordic-Baltic network for researchers, cultural heritage institutions and other stakeholders in order to serve as a think-tank for future activities.
Would you like to know more and become part of the network? Do you have a project that you would like to share with us, or do you know of interesting projects? Are you looking for project partners to realize new ideas? Please contact Berit Hildebrandt. We look forward to hearing from you!
News from the project:
You are welcome to subscribe to our "Kurva" news list where we spread information about heritage and well-being. Just click on this link!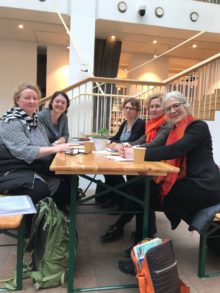 The project partners at their first meeting at the National Museum in Copenhagen: Cultural heritage makes people feel well :)!